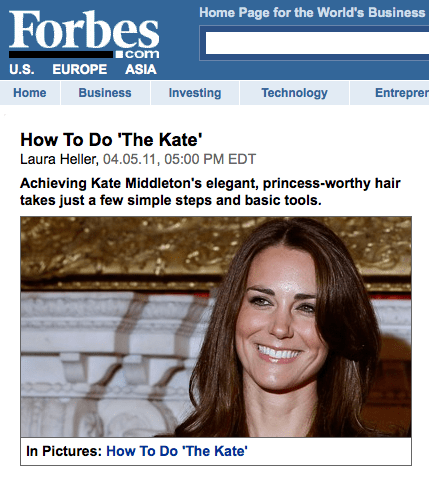 Laura Heller and Forbes.com posted a great DIY called How to Do 'The Kate.'  Heller concedes that achieving Kate Middleton's elegant, princess-worthy hair takes just a few simple steps and basic tools. Good news everyone, with Click n Curl, it just got even easier!
The pictorial post features Charles Ifergan, a top Chicago stylist, who says that getting Kate's look is all about "volume, volume, volume." He achieves the volume by using several round brushes (handles dangling and all) and suggests that you leave them in your hair (dangling handles and all) until you've finished your make-up and the curls have cooled.
With Click n Curl, you can get the same results, but you don't need a drawer full of round brushes and you don't have to contend with all of the handles.  Click n Curl is the fast and easy way to get professional styling results at home.
Until now, women and stylists have needed to find other, more cumbersome ways to create the looks that Wet Set Brush Rollers were designed to achieve.
Comments
comments