Love your thin hair! 
Thin hair isn't a bad thing. It can be a lot easier to manage than a super thick mane.
Sure, you probably can't get that mermaid hair look without extensions, but you can still have hair that other people appreciate and envy – so long as you take care of it properly and know what practices to avoid.
We have compiled a short list of some important things to consider when cutting and styling your thin hair.
See our infographic below!
Click the image below to view the full size.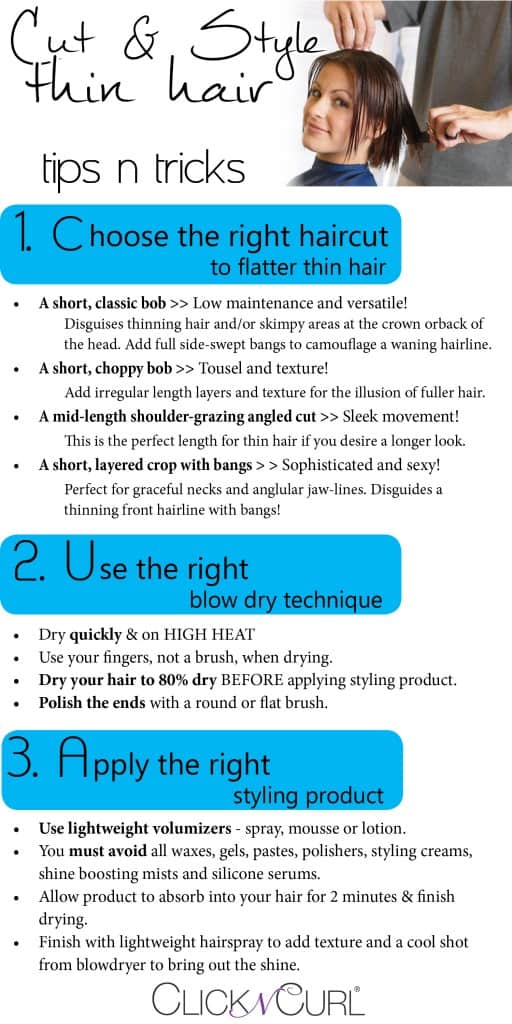 Image Text:
Cut & Style thin hair
Tips n Tricks
1. Choose the right haircut to flatter thin hair
• A short, classic bob >> Low maintenance and versatile!
Disguises thinning hair and/or skimpy areas at the crown or back of
the head. Add full side-swept bangs to camouflage a waning hairline.
• A short, choppy bob >> Tousel and texture!
Add irregular length layers and texture for the illusion of fuller hair.
• A mid-length shoulder-grazing angled cut >> Sleek movement!
This is the perfect length for thin hair if you desire a longer look.
• A short, layered crop with bangs > > Sophisticated and sexy!
Perfect for graceful necks and anglular jaw-lines. Disguides a
thinning front hairline with bangs!
2. Use the right blow dry technique
• Dry quickly & on HIGH HEAT
• Use your fingers, not a brush, when drying.
• Dry your hair to 80% dry BEFORE applying styling product.
• Polish the ends with a round or flat brush.
3. Apply the right styling product
• Use lightweight volumizers – spray, mousse or lotion.
• You must avoid all waxes, gels, pastes, polishers, styling creams, shine boosting mists and silicone serums.
• Allow product to absorb into your hair for 2 minutes & finish drying.
• Finish with lightweight hairspray to add texture and a coolshot from blowdryer to bring out the shine.
Comments
comments