Having some trouble using your Click n Curl? No worries!
It can be tricky at first, but you'll get the hang of it in no time.
Below is a handy "Do's and Don'ts" visual to pinpoint where you might be having trouble.
Click on the image to open in a new tab if it's too small for your screen.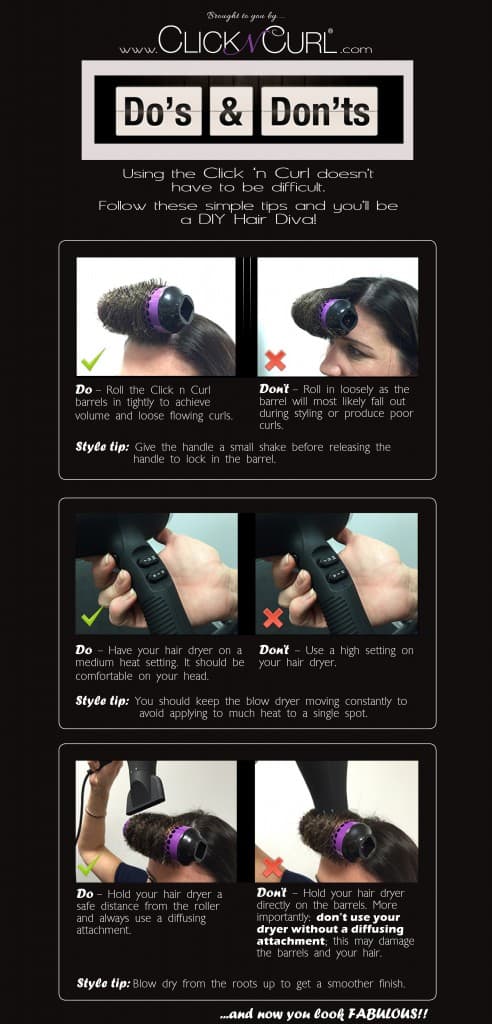 If you have any more questions, please comment below and we will answer them ASAP.
Happy Curling!
Image Text:
Using the Click n Curl doesn't have to be difficult.
Follow these simple tips and you'll be a DIY Hair Diva!
Do – Roll the Click n Curl barrels in tightly to achieve volume and loose flowing curls.
Don't – Roll in loosely as the barrel will most likely fall out during styling or
produce poor curls.
Style tip: Give the handle a small shake before releasing the handle to lock in
the barrel.
Do – Have your hair dryer on a medium heat setting. It should be comfortable on
your head.
Don't – Use a high setting on your hair dryer.
Style tip: You should keep the blow dryer moving constantly to avoid applying
to much heat to a single spot.
Do – Hold your hair dryer a safe distance from the roller and always use a diffuse nozzle.
Don't – Hold your hair dryer directly on the barrels and especially not without a
diffuse nozzle as this may damage the barrels and your hair.
Style tip: Blow dry from the roots up to get a smoother finish.
…and now you look fabulous!
Comments
comments