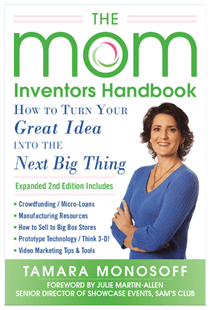 We are so very excited to announce that the creator of Click n Curl and owner of Casual Panache, Inc., Kim Nimsgern, is going to be featured in The Mom Inventors Handbook: How to Turn Your Great Idea into the Next Big Thing by best-selling author Tamara Monosoff! The latest edition of Monosoff's book, The Mom Inventors Handbook gives step-by-step advice to do-it-yourself entrepreneurs on how to create, fund, market, distribute and sell their products. Kim used Monosoff's first book to help create and find a market for the Click n Curl, and is very passionate about Monosoff's work.
In The Mom Inventors Handbook, Kim, along with many other successful entrepreneurs, offer personal resources and advice to readers in order to help motivate fellow creative minds who strive to bring their own ideas into reality. "I have been asked countless times, 'how did you do it?'" Kim says, smiling and holding a copy of Monosoff's original book. "I am honored to have been given the opportunity to share in Tamara's book some of the key things I have discovered along the way. With so many new recourses and tools available today, I am thrilled that Tamara has written this book to help others navigate the process and very excited to be included."
With the help of Monosoff and resources like The Mom Inventors Handbook, Kim was able to develop her concept into a retail product. Since the launch of Click n Curl in September 2012, it has been featured on the likes of the NBC Today Show, the Rachael Ray Show, New York Live, Good Morning Arizona, Good Morning Dallas; in magazines including Oprah, Allure, Hair Cut & Style, Sophisticate's Hairstyle Guide and BIOUS. "It is so rewarding seeing my vision become a reality," Kim continues. "What started out as an idea is now a patented product being sold internationally. The process has been truly fascinating and the enthusiasm and positive feedback for Click n Curl from my customers has been extremely rewarding."
Get your copy of Tamara Monosoff's newest edition of The Mom Inventors Handbook on April 2nd, 2014!

Comments
comments